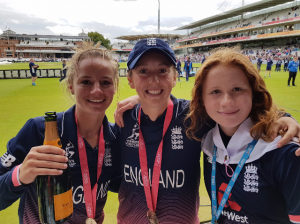 Name: Frances Wilson
Age: 25
Sport: Cricket
Position: Batter
Career Length: International 6 years, total 11 years
What made you choose Cricket?
I loved the social side and always had my best friends through cricket, I think because it is such a long sport and meant you spent a lot of time with each other!
In your opinion, what has been the most challenging part of your career thus far?
My first year of international cricket was very challenging. I felt completely out of my depth playing for England and didn't perform very well, after being dropped from the squad I wanted to quit the sport completely. I was in my first year of university so had lots of other things going on! After a few years out I started to play well again and learnt how to deal with the higher pressure you're under playing international sport, going through the initial challenges early in my career helped me gain a bit of perspective and develop other areas of my life which in turn made me a better cricketer and more rounded person.
What is your greatest sporting achievement?
Becoming a World Cup winner for England in the 2017 World Cup. We were hosts of the tournament and the final was played in front of 27,000 people, it was amazing to be part of such a historical event in women's sport. Making my comeback for England after 5 years and getting MOM in the game was also really special moment for me.
Who is your inspiration?
My mum is a big inspiration for me, she is very hard working and seems to enjoy everything she does. I think that's really important and why I find her inspiring- she has an interest and an open mind to anything she finds herself doing.
Do you have any advice for the younger Fran?
Don't get frustrated or bitter about losing or feeling like you're not quite good enough- just see it as an extra challenge and something that's making you better. (I'm far too competitive!)
What is your current sporting goal and how do you plan on achieving it?
I want to become one of the most valuable middle order batters in world cricket and be part of an ashes winning team this winter. I plan to keep working hard, keep perspective and enjoy any challenges which come my way.
What direction do you see your career moving towards?
I hope to continue to become an established player for England.
Do you have a particular mindset when approaching an important game?
I like to view nerves as my bodies way of best preparing me to play, I also like to trust all the hard work I have done in training and let instinct take over which I find takes the pressure off performance- if you have prepared the best you can that's all you can do.
Apart from your sporting achievement and athletic ability, do you think there are any attributes you have acquired over the years from sport that benefit you outside of sport?
Sport has opened lots of doors for me, being in a sporting environment and meeting lots of interesting and successful people has given me the opportunity to do further education as well as get involved in coaching which in turn provided me with loads of new skills such as talking in front of big groups. I think taking part in sport also lets you work out how to learn, not just work ethic but also how to accept failures and keep moving forward.
What does it mean to you to be part of a team?
Being part of a team is often my motivation when I'm playing sport. The feeling that you are working for people you care about towards a cause which everyone wants to achieve pushes me forwards. I love the fact teams require all different sorts of people to be successful- in a good team, everyone has a value and a job to do which gives you a bit of a purpose.
What is your advice to someone who has never played sport before and is considering taking one up?
Find something which makes you feel passionate about it (whether it's the sport itself, learning or the people you do it with). Enjoyment and success comes with something you are passionate about.
Has cricket opened any doors for you?
My sport gave me the opportunity to complete my MSc in Sport and Exercise Nutrition and work for the ECB as a performance nutritionist for 3 years. It has also opened doors in coaching cricket. This all happened because I met people within cricket who were willing to help me and give me an opportunity in areas outside of playing. Sport teams are like families and if you make a good impression people love to help you out!
*ECB = England and Wales Cricket Board