Hey!
I'm Kate McDaid, the health and performance nutritionist behind NutriKate! Having worked in the UK for the past number of years I felt it was time to get back on Irish soil and thus, NutriKate was born. Taking it back a few years, I studied Food Science at the University of College Dublin however, from a young age I knew that Nutrition was the career for me!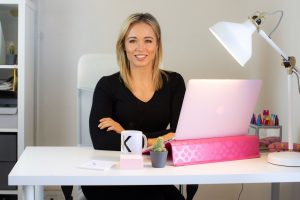 Following my ambition, I moved to Loughborough where I completed an MSc in Sports and Exercise Nutrition at Loughborough University and landed a position in the UK's leading nutrition consultancy where I progressed to Senior Health and Performance Nutritionist.  From this experience, I quickly started to build an extensive portfolio working with professional sports teams, elite sporting scholars, corporate clients, charity organisations, weight-loss and health seeking individuals.
Coming from a competitive sporting background, the importance of nutrition quickly became apparent to me at a young age. Over a 12-year basketball career (that is still growing), I have been fortunate to compete and captain teams at international, county and university level. Travelling for sport and the new environments that came with it, as well as the training programs, each brought their own nutritional challenges. However, it was when I was 15 my passion for nutrition really blossomed. I worked alongside a nutritionist for 2 weeks. This experience focused on promoting health and wellness, an area outside of sport that I realised I had a keen interest in. As time went on, life continued to bring its own experiences, ones that I am very grateful for; I spent time as a fashion model, moving towards bikini competing and fitness modelling all of which widened my nutritional knowledge and thinking, fuelling my hunger to uncover more. I believe that those experiences now serve as insightful tools allowing me to help clients achieve their own personal goals.
So what is NutriKate all about? 
NutriKate, a nutrition consultancy based but not limited to Dublin, was created to deliver bespoke, evidence-based nutrition support for those who need it. All nutrition advice provided works to fit in with your lifestyle meaning that no two plans are the same. You don't need to turn your kitchen into a health food store to become healthy. You don't need to knock back 100's of supplements to be an athlete. Nutrition, like all things in life, should be played to our strengths! Let us uncover yours so your goals are achieved and above all maintained! So whether you are hoping to fit into 'those' jeans, improve your performance as an athlete (or the performance of your team) or simply better your health or that of your employees, NutriKate has got you covered!
And the NutriKate philosophy is… 
We believe that the correct nutrition practices should be easy, attainable and affordable. Combining cutting-edge research alongside experience means that bespoke nutrition frameworks are created so that our clients succeed. With the overwhelming growth of the health and fitness industry in recent years, we have been bombarded by sensational views that may sound exciting however hold little to no truth and can be very disempowering. We strive to cut through the nonsense and deliver advice and content that holds both truth and practicality.
But wait, what is this evidence-based thing you speak of?
It means that nutrition recommendations or information that we provide are based on the most up-to-date scientific and peer-reviewed research. This is coupled with our growing experience as practitioners along with your needs as a client. Taking all three of these areas into account breeds a winning formula! It means that we work towards your goals using techniques that we know work, that have been tried and tested and that aren't disempowering. We have a concept of the life you live, your preferences, your dislikes and from that, we can judge the approach that will best compliment your lifestyle. It means that flexibility is allowed within your diet. See, being evidence-based has a lot of positives and the above are only touching the surface! Respecting the importance of scientific research means that our knowledge is forever growing and developing, therefore, we do not live and die by one type of diet. We are all different and for that reason, our nutrition framework should reflect that too.