ATHLETES & TEAMS
NutriKate has extensive experience working alongside athletes from amateur to elite, underage to senior. Currently the Performance nutritionist for both the All-Ireland Champions, Dublin Senior Ladies Football team and the Longford Senior Men's Football team, we know the key ingredients needed to get the most from athletes no matter what stage of their career they are at.
Are you an athlete looking to maximise your performance and unlock your potential? Take a look out our Athletic Fuel package below and see what we can offer you.
Or are you a coach/ player that wants your team to get the support needed to bring your standards and performance to the next level? If so, please get in touch and see what we can do for you. We facilitate your needs so that the talent of your team can develop and flourish.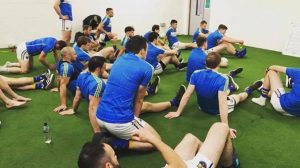 Athletic Fuel (12-week package)
Take your training and performance to the next level. Often we undermine our efforts in the gym, pitch, track, water or wherever your sport takes you by poor nutrition practices.
Often we waste our time and money trying supplements that don't work, taking in information that has no weight behind it. Take one area of strain out of your athletic regime by getting nutrition support you can trust. We provide support that you know will get you to where you need and want to be, done so by professionals that actually care about the process and your wellbeing along the way. Whether you're trying to reach or maintain an elite level or simply looking to uncover your potential in your chosen sport, let us help you no matter what part of the season you are in.
What does the Athletic Fuel package include?
All of the information and advice that you receive is specifically designed and tailored for you and your performance goals
2 hours of consultation time with your nutritionist over the 12 weeks, in person or via Skype/ Facetime, whatever your preference
Extensive feedback notes
Meal/ snack examples, swaps and recipes
Email support – you are never left stuck
Body composition analysis – Online or with your nutritionist
Adjustments and amendments dependent on your season and your goals
For further information or should you have any questions please get in touch!